1. Constant Contact – The Best Overall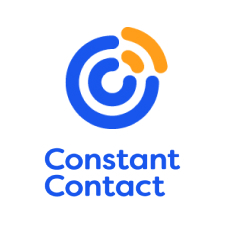 Payment Plans: Based on the Number of Contacts
Pricing: Starting From $20.00
Ease of Use: 4/5 – Easy
Free Version: No
Drag & Drop Editor: Available
Mobile-Friendly Editor: Yes
---
Ease of Use
Our beginner testers thought this of Constant Contact: "The user experience is quite simple but takes a bit of time to get used to navigating around the campaign management tool."
You have multiple options for importing your email contacts. You can use copy-pasting, upload emails in bulk from a file, and import contacts from Gmail, Outlook, and other 3rd party apps. The whole process itself is quite simple and easy to follow.
Constant Contact's email design tool uses a drag and drop functionality together with element blocks. When creating your email, you can choose from several templates as a base for your email, or start building it from scratch. Multiple handy toolbars help you with adding elements or editing a selected one. However, when adding an image, you go through three separate windows, which we feel is a bit much.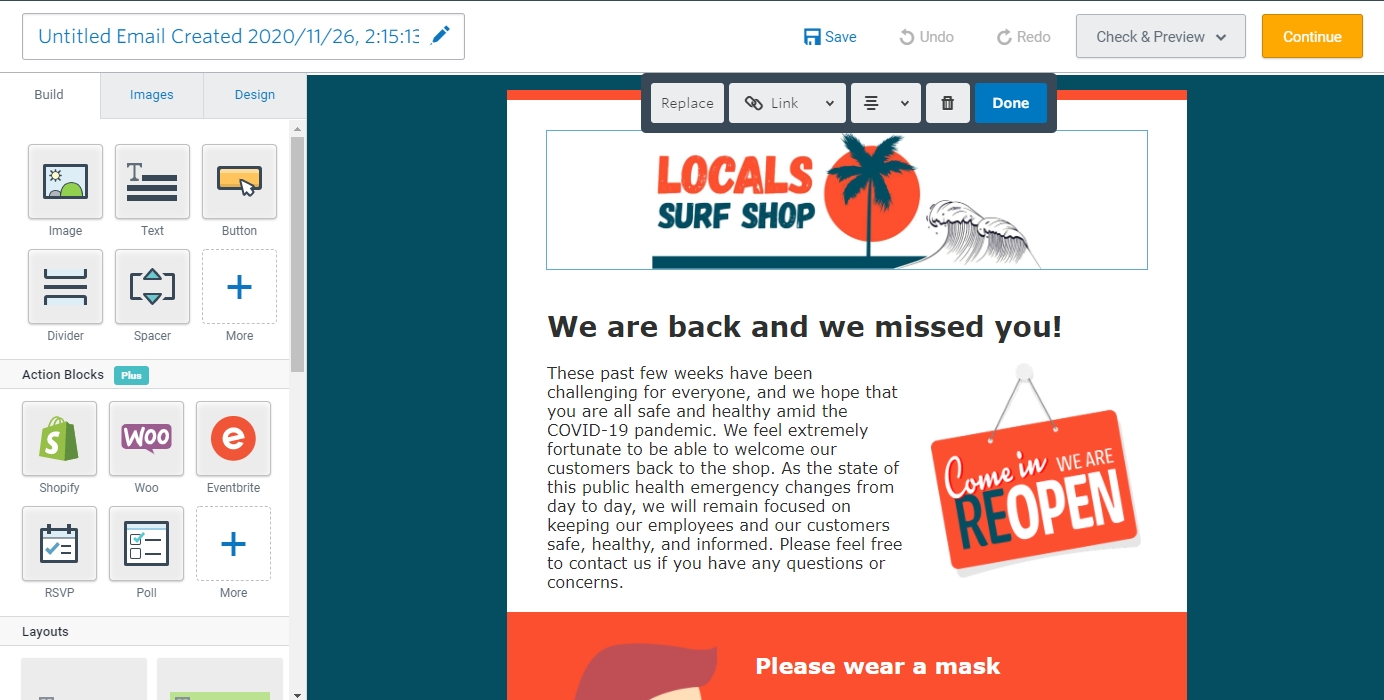 While you're building your email, you can always use the preview function to see how the current version would look in someone's inbox.
After you've created your email, you choose the email recipients, add a subject line, and determine when your email is sent. Once you're done with that, you can go back to your dashboard and see some basic statistics about your emails' performance.
Mobile Editor
Constant Contact has a separate mobile app available on the App Store and Google Play. You can use it to create and send emails, receive notifications, and see statistics of your sent emails. The app itself is relatively compact and useful for marketers on the go who still want to be productive with their email marketing.
Features
Constant Contact's service has all the modern features necessary to create an effective email marketing campaign in today's world. Some of the more advanced features are only available with the higher-tier plan. So, make sure you pick the right plan with your desired features.
On top of the unlimited number of emails you can send with Constant Contact, the main features are drag and drop design tools, mobile-responsive emails, list segmentation for targeted emails, personalized emails, and email automation capabilities.
Their customer support is available over the phone and live chat support, and they have an extensive knowledge base with additional marketing articles you can browse.
If you don't have a website yet, then Constant Contact's plans also include website hosting. You can build an entire website, landing pages, or even eCommerce sites.
Pricing & Plans
Constant Contact offers two subscription plans, and the cost of both is tied with how many contacts you are adding to your account.

The cheapest plan starts at $20/month with 500 contacts ($0.04/contact).
Constant Contact offers an extraordinary 60-day free trial without needing a credit card. You're limited to 100 contacts during the trial period, but it still gives you a safe opportunity to test their service. Besides, you get a 30-day money-back guarantee with the paid plans.
---
Health Site
Health Site
Health Site
Health Site
Health Site
Health Site
Health Site
Health Site
Health Site
Health Site
Health Site
Health Site
Health Site
Health Site
Health Site
Health Site
Health Site
Health Site
Health Site
Health Site
Health Site
Health Site
Health Site
Health Site
Health Site
Health Site
Health Site
Health Site
Health Site
Health Site
Health Site
Health Site
Health Site
Health Site
Health Site
Health Site
Health Site
Health Site
Health Site
Health Site
Health Site
Health Site
Health Site
Health Site
Health Site
Health Site
Health Site
Health Site
Health Site
Health Site
Health Site
Health Site
Health Site
Health Site
Health Site
Health Site
Health Site
Health Site
Health Site
Health Site
Health Site
Health Site
Health Site
Health Site
Health Site
Health Site
Health Site
Health Site
Health Site
Health Site
Health Site
Health Site
Health Site
Health Site
Health Site
Health Site
Health Site
Health Site
Health Site
Health Site
Health Site
Health Site
Health Site
Health Site
Health Site
Health Site
Health Site
Health Site
Health Site
Health Site
Health Site
Health Site
Health Site
Health Site
Health Site
Health Site
Health Site
Health Site
Health Site
Health Site
Health Site
Health Site
Health Site
Health Site
Health Site
Health Site
Health Site
Health Site
Health Site
Health Site
Health Site
Health Site
Health Site
Health Site
Health Site
Health Site
Health Site
Health Site
Health Site
Health Site
Health Site
Health Site
Health Site
Health Site
Health Site
Health Site
Health Site
Health Site
Health Site
Health Site
Health Site
Health Site
Health Site
Health Site
Health Site
Health Site
Health Site
Health Site
Health Site
Health Site
Health Site
Health Site
Health Site
Health Site
Health Site
Health Site
Health Site
Health Site
Health Site
Health Site
Health Site
Health Site
Health Site
Health Site
Health Site
Health Site
Health Site
Health Site
Health Site
Health Site
Health Site
Health Site
Health Site
Health Site
Health Site
Health Site
Health Site
Health Site
Health Site
Health Site
Health Site
Health Site
Health Site
Health Site
Health Site
Health Site
Health Site
Health Site
Health Site
Health Site
Health Site
Health Site
Health Site
Health Site
Health Site
Health Site
Health Site
Health Site
Health Site
Health Site
Health Site
Health Site
Health Site
Health Site
Health Site
Health Site
Health Site
Health Site
Health Site
Health Site
Health Site
Health Site
Health Site
Health Site
Health Site
Health Site
Health Site
Health Site
Health Site
Health Site
Health Site
Health Site
Health Site
Health Site
Health Site
Health Site
Health Site
Health Site
Health Site
Health Site
Health Site
Health Site
Health Site
Health Site
Health Site
Health Site
Health Site
Health Site
Health Site
Health Site
Health Site
Health Site
Health Site
Health Site
Health Site
Health Site
Health Site
Health Site
Health Site
Health Site
Health Site
Health Site
Health Site
Health Site
Health Site
Health Site
Health Site
Health Site
Health Site
Health Site
Health Site
Health Site
Health Site
Health Site
Health Site
Health Site
Health Site
Health Site
Health Site
Health Site
Health Site
Health Site
Health Site
Health Site
Health Site
Health Site
Health Site
Health Site
Health Site
Health Site
Health Site
Health Site
Health Site
Health Site
Health Site
Health Site
Health Site
Health Site
Health Site
Health Site
Health Site
Health Site
Health Site
Health Site
Health Site
Health Site
Health Site
Health Site
Health Site
Health Site
Health Site
Health Site
Health Site
Health Site
Health Site
Health Site
Health Site
Health Site
Health Site
Health Site
Health Site
Health Site
Health Site
Health Site
Health Site
Health Site
Health Site
Health Site
Health Site
Health Site
Health Site
Health Site
Health Site
Health Site
Health Site
Health Site
Health Site
Health Site
Health Site
Health Site
Health Site
Health Site
Health Site
Health Site
Health Site
Health Site
Health Site
Health Site
Health Site
Health Site
Health Site
Health Site
Health Site
Health Site
Health Site
Health Site
Health Site
Health Site
Health Site
Health Site
Health Site
Health Site
Health Site
Health Site
Health Site
Health Site
Health Site
Health Site
Health Site
Health Site
Health Site
Health Site
Health Site
Health Site
Health Site
Health Site
Health Site
Health Site
Health Site
Health Site
Health Site
Health Site
Health Site
Health Site
Health Site
Health Site
Health Site
Health Site
Health Site
Health Site
Health Site
Health Site
Health Site
Health Site
Health Site
Health Site
Health Site
Health Site
Health Site
Health Site
Health Site
Health Site
Health Site
Health Site
Health Site
Health Site
Health Site
Health Site
Health Site
Health Site
Health Site
Health Site
Health Site
Health Site
Health Site
Health Site
Health Site
Health Site
Health Site
Health Site
Health Site
Health Site
Health Site
Health Site
Health Site
Health Site
Health Site
Health Site
Health Site
Health Site
Health Site
Health Site
Health Site
Health Site
Health Site
Health Site
Health Site
Health Site
Health Site
Health Site
Health Site
Health Site
Health Site
Health Site
Health Site
Health Site
Health Site
Health Site
Health Site
Health Site
Health Site
Health Site
Health Site
Health Site
Health Site
Health Site
Health Site
Health Site
Health Site
Health Site
Health Site
Health Site
Health Site
Health Site
Health Site
Health Site
Health Site
Health Site
Health Site
Health Site
Health Site
Health Site
Health Site
Health Site
Health Site
Health Site
Health Site
Health Site
Health Site
Health Site
Health Site
Health Site
Health Site
Health Site
Health Site
Health Site
Health Site
Health Site
Health Site
Health Site
Health Site
Health Site
Health Site
Health Site
Health Site
Health Site
Health Site
Health Site
Health Site
Health Site
Health Site
Health Site
Health Site
Health Site
Health Site
Health Site
Health Site
Health Site
Health Site
Health Site
Health Site
Health Site
Health Site
Health Site
Health Site
Health Site
Health Site
Health Site
Health Site
Health Site