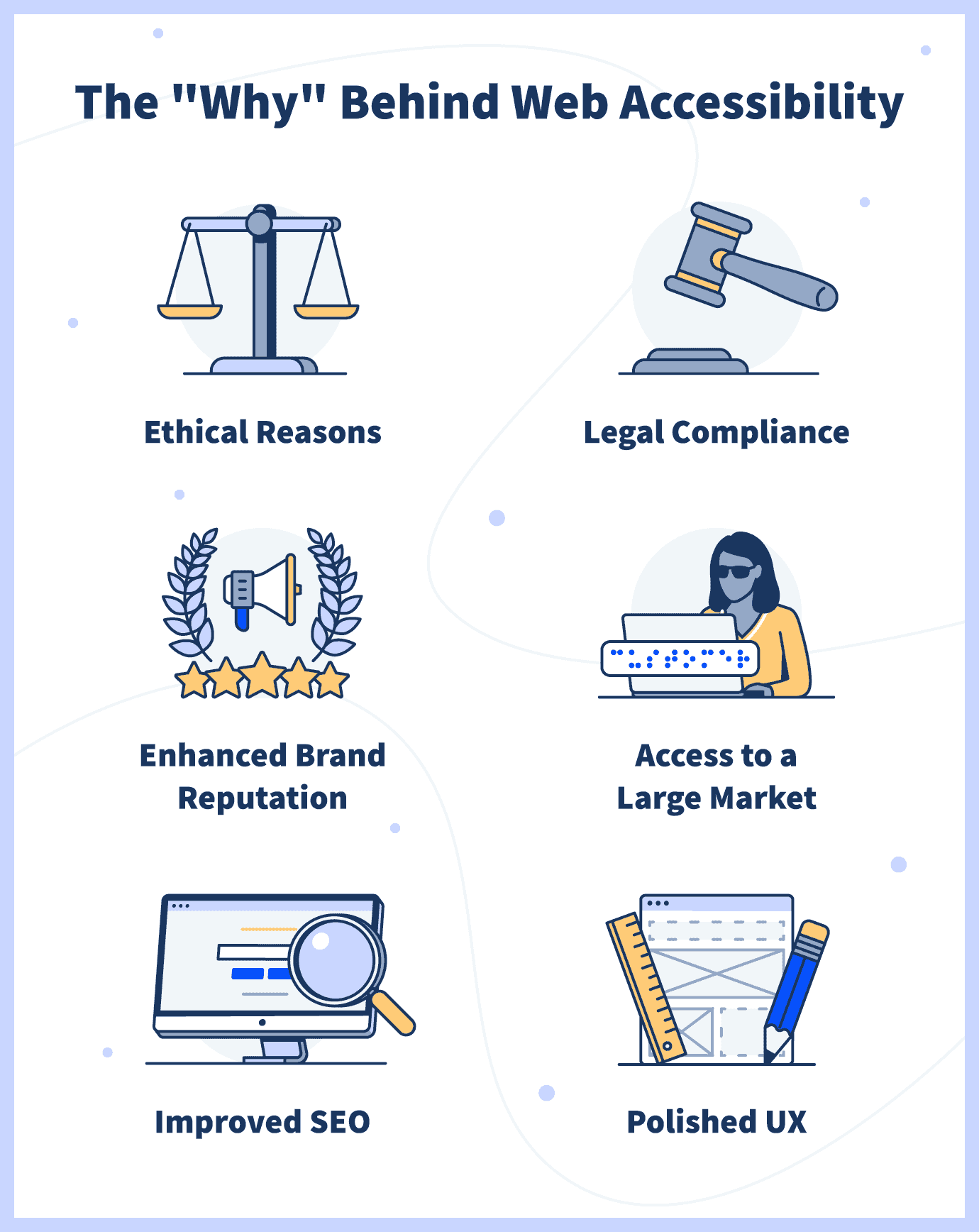 Before going into how to make your website accessible for visually impaired people, we'll explain the importance of web accessibility as a whole, along with its many benefits.
Designing your website with web accessibility in mind is not only a legal obligation and the right thing to do, but it's also good for website and business performance. Here are the most important reasons why you should make your website accessible:
Ethical Reasons
The first reason comes down to ethics. As a business, it's your responsibility to provide equal access to your website to people with disabilities. An accessible website helps people with impairments participate actively in society.
The internet has become a fundamental part of modern life, and to gain full access to information and resources, one needs to be able to access the internet. But not all people have equal abilities to access the web. In addition to that, for some people with disabilities, it's easier to communicate and do business online rather than in person.
Research has found that there is no lack of motivation from sight-impaired people to use digital technology. In fact, 77% of visually impaired people believe that digital technology allows them to stay close to friends and family, and more than 50% believe that it makes independent living easier.
Legal Compliance
Web accessibility is a legal requirement in many countries. In the U.S., the Workforce Rehabilitation Act of 1973requires that information and communications technology provided by federal agencies is accessible to people with disabilities.
If users with impairments are unable to access important information because your website isn't accessible, they can sue your company for digital discrimination. In 2018, approximately 2,250 lawsuits were filed in federal court in the U.S. alone.
Enhanced Brand Reputation
Making your website accessible will make your brand come through as socially responsible and show that your company cares for others. This will improve your brand image among your entire audience, ultimately resulting in more sales.
Research has found that 62% of consumers prefer to buy from companies that stand for issues that reflect their values — and walk away from those that don't. Ensure your website and company are socially responsible by prioritizing website accessibility.
Access to a Large Market
In 2016, one in four U.S. adults reported having a disability. Even if people with disabilities are not your primary customers, they're most likely part of your audience.
Do you think these consumers would buy from a website that is not accessible and difficult to use? More than 80% of people with disabilities don't trust a service provider because of problems, mainly caused by unsatisfactory web accessibility. A survey study in the U.K. found that, in 2019, 4 million people abandoned a retail website because of accessibility difficulties — resulting in a loss of £17.1 billion (almost $24 billion).
Also, keep in mind that internet users using assistive devices have huge purchasing power (more than $350 billion in the U.S. alone). By targeting this market effectively, you are putting your business in front of an audience that is often willing to pay more for a premium service.
Read Bluff
Read Bluff
Read Bluff
Read Bluff
Read Bluff
Read Bluff
Read Bluff
Read Bluff
Read Bluff
Read Bluff
Read Bluff
Read Bluff
Read Bluff
Read Bluff
Read Bluff
Read Bluff
Read Bluff
Read Bluff
Read Bluff
Read Bluff
Read Bluff
Read Bluff
Read Bluff
Read Bluff
Read Bluff
Read Bluff
Read Bluff
Read Bluff
Read Bluff
Read Bluff
Read Bluff
Read Bluff
Read Bluff
Read Bluff
Read Bluff
Read Bluff
Read Bluff
Read Bluff
Read Bluff
Read Bluff
Read Bluff
Read Bluff
Read Bluff
Read Bluff
Read Bluff
Read Bluff
Read Bluff
Read Bluff
Read Bluff
Read Bluff
Read Bluff
Read Bluff
Read Bluff
Read Bluff
Read Bluff
Read Bluff
Read Bluff
Read Bluff
Read Bluff
Read Bluff
Read Bluff
Read Bluff
Read Bluff
Read Bluff
Read Bluff
Read Bluff
Read Bluff
Read Bluff
Read Bluff
Read Bluff
Read Bluff
Read Bluff
Read Bluff
Read Bluff
Read Bluff
Read Bluff
Read Bluff
Read Bluff
Read Bluff
Read Bluff
Read Bluff
Read Bluff
Read Bluff
Read Bluff
Read Bluff
Read Bluff
Read Bluff
Read Bluff
Read Bluff
Read Bluff
Read Bluff
Read Bluff
Read Bluff
Read Bluff
Read Bluff
Read Bluff
Read Bluff
Read Bluff
Read Bluff
Read Bluff
Read Bluff
Read Bluff
Read Bluff
Read Bluff
Read Bluff
Read Bluff
Read Bluff
Read Bluff
Read Bluff
Read Bluff
Read Bluff
Read Bluff
Read Bluff
Read Bluff
Read Bluff
Read Bluff
Read Bluff
Read Bluff
Read Bluff
Read Bluff
Read Bluff
Read Bluff
Read Bluff
Read Bluff
Read Bluff
Read Bluff
Read Bluff
Read Bluff
Read Bluff
Read Bluff
Read Bluff
Read Bluff
Read Bluff
Read Bluff
Read Bluff
Read Bluff
Read Bluff
Read Bluff
Read Bluff
Read Bluff
Read Bluff
Read Bluff
Read Bluff
Read Bluff
Read Bluff
Read Bluff
Read Bluff
Read Bluff
Read Bluff
Read Bluff
Read Bluff
Read Bluff
Read Bluff
Read Bluff
Read Bluff
Read Bluff
Read Bluff
Read Bluff
Read Bluff
Read Bluff
Read Bluff
Read Bluff
Read Bluff
Read Bluff
Read Bluff
Read Bluff
Read Bluff
Read Bluff
Read Bluff
Read Bluff
Read Bluff
Read Bluff
Read Bluff
Read Bluff
Read Bluff
Read Bluff
Read Bluff
Read Bluff
Read Bluff
Read Bluff
Read Bluff
Read Bluff
Read Bluff
Read Bluff
Read Bluff
Read Bluff
Read Bluff
Read Bluff
Read Bluff
Read Bluff
Read Bluff
Read Bluff
Read Bluff
Read Bluff
Read Bluff
Read Bluff
Read Bluff
Read Bluff
Read Bluff
Read Bluff
Read Bluff
Read Bluff
Read Bluff
Read Bluff
Read Bluff
Read Bluff
Read Bluff
Read Bluff
Read Bluff
Read Bluff
Read Bluff
Read Bluff
Read Bluff
Read Bluff
Read Bluff
Read Bluff
Read Bluff
Read Bluff
Read Bluff
Read Bluff
Read Bluff
Read Bluff
Read Bluff
Read Bluff
Read Bluff
Read Bluff
Read Bluff
Read Bluff
Read Bluff
Read Bluff
Read Bluff
Read Bluff
Read Bluff
Read Bluff
Read Bluff
Read Bluff
Read Bluff
Read Bluff
Read Bluff
Read Bluff
Read Bluff
Read Bluff
Read Bluff
Read Bluff
Read Bluff
Read Bluff
Read Bluff
Read Bluff
Read Bluff
Read Bluff
Read Bluff
Read Bluff
Read Bluff
Read Bluff
Read Bluff
Read Bluff
Read Bluff
Read Bluff
Read Bluff
Read Bluff
Read Bluff
Read Bluff
Read Bluff
Read Bluff
Read Bluff
Read Bluff
Read Bluff
Read Bluff
Read Bluff
Read Bluff
Read Bluff
Read Bluff
Read Bluff
Read Bluff
Read Bluff
Read Bluff
Read Bluff
Read Bluff
Read Bluff
Read Bluff
Read Bluff
Read Bluff
Read Bluff
Read Bluff
Read Bluff
Read Bluff
Read Bluff
Read Bluff
Read Bluff
Read Bluff
Read Bluff
Read Bluff
Read Bluff
Read Bluff
Read Bluff
Read Bluff
Read Bluff
Read Bluff
Read Bluff
Read Bluff
Read Bluff
Read Bluff
Read Bluff
Read Bluff
Read Bluff
Read Bluff
Read Bluff
Read Bluff
Read Bluff
Read Bluff
Read Bluff
Read Bluff
Read Bluff
Read Bluff
Read Bluff
Read Bluff
Read Bluff
Read Bluff
Read Bluff
Read Bluff
Read Bluff
Read Bluff
Read Bluff
Read Bluff
Read Bluff
Read Bluff
Read Bluff
Read Bluff
Read Bluff
Read Bluff
Read Bluff
Read Bluff
Read Bluff
Read Bluff
Read Bluff
Read Bluff
Read Bluff
Read Bluff
Read Bluff
Read Bluff
Read Bluff
Read Bluff
Read Bluff
Read Bluff
Read Bluff
Read Bluff
Read Bluff
Read Bluff
Read Bluff
Read Bluff
Read Bluff
Read Bluff
Read Bluff
Read Bluff
Read Bluff
Read Bluff
Read Bluff
Read Bluff
Read Bluff
Read Bluff
Read Bluff
Read Bluff
Read Bluff
Read Bluff
Read Bluff
Read Bluff
Read Bluff
Read Bluff
Read Bluff
Read Bluff
Read Bluff
Read Bluff
Read Bluff
Read Bluff
Read Bluff
Read Bluff
Read Bluff
Read Bluff
Read Bluff
Read Bluff
Read Bluff
Read Bluff
Read Bluff
Read Bluff
Read Bluff
Read Bluff
Read Bluff
Read Bluff
Read Bluff
Read Bluff
Read Bluff
Read Bluff
Read Bluff
Read Bluff
Read Bluff
Read Bluff
Read Bluff
Read Bluff
Read Bluff
Read Bluff
Read Bluff
Read Bluff
Read Bluff
Read Bluff
Read Bluff
Read Bluff
Read Bluff
Read Bluff
Read Bluff
Read Bluff
Read Bluff
Read Bluff
Read Bluff
Read Bluff
Read Bluff
Read Bluff
Read Bluff
Read Bluff
Read Bluff
Read Bluff
Read Bluff
Read Bluff
Read Bluff
Read Bluff
Read Bluff
Read Bluff
Read Bluff
Read Bluff
Read Bluff
Read Bluff
Read Bluff
Read Bluff
Read Bluff
Read Bluff
Read Bluff
Read Bluff
Read Bluff
Read Bluff
Read Bluff
Read Bluff
Read Bluff
Read Bluff
Read Bluff
Read Bluff
Read Bluff
Read Bluff
Read Bluff
Read Bluff
Read Bluff
Read Bluff
Read Bluff
Read Bluff
Read Bluff
Read Bluff
Read Bluff
Read Bluff
Read Bluff
Read Bluff
Read Bluff
Read Bluff
Read Bluff
Read Bluff
Read Bluff
Read Bluff
Read Bluff
Read Bluff
Read Bluff
Read Bluff
Read Bluff
Read Bluff
Read Bluff
Read Bluff
Read Bluff
Read Bluff
Read Bluff
Read Bluff
Read Bluff
Read Bluff
Read Bluff
Read Bluff
Read Bluff
Read Bluff
Read Bluff
Read Bluff
Read Bluff
Read Bluff
Read Bluff
Read Bluff
Read Bluff
Read Bluff
Read Bluff
Read Bluff
Read Bluff
Read Bluff
Read Bluff
Read Bluff
Read Bluff
Read Bluff
Read Bluff
Read Bluff