What Causes the Critical Error
If you've been using WordPress for some time, you've likely heard of or possibly even encountered its most infamous error: the White Screen of Death. This startling glitch would cause your entire website, and sometimes even your backend, to load as a blank white page.
In recent versions of WordPress, this blank screen has been replaced with the critical error and the text "There has been a critical error on your website. Please check your site admin email inbox for instructions."

While this is less panic-inducing than your site simply refusing to load at all, the error text isn't much more helpful than before, and it's likely to leave you wondering: What causes this critical error?
Much like the White Screen of Death, the issue can usually be traced back to an issue with PHP: either your memory limit being surpassed, or an error in your code, plugins, or theme. It may also be an issue of database corruption.
While the error text itself may not be very helpful, knowing this makes troubleshooting much easier.
You may also want to look into these other WordPress errors, as you could be experiencing multiple of them:
And if you see any other strange errors, look through these HTTP status codes.
How to Fix the Critical Error
You're here to get your site up and running again, and to that end, we've collected several different potential ways to fix the issue. Knowing that the cause is likely PHP-related, these may involve editing core WordPress files. Even with your site in a broken state, make sure to back it up before implementing any of these suggestions, as we don't want to make it worse!
If you're able to log in to your website's backend, that will help immensely. But as your entire site is likely down, you'll very likely need to access it through FTP (or SFTP).
Contact your web host or look through your hosting dashboard to find your FTP login credentials, and make sure to install an FTP client like FileZilla. This guide on connecting to WordPress over FTP can help too.
Revert to a Default Theme
Sometimes the critical error can be traced back to a conflict within your theme. The best way to test for this is to temporarily delete it and revert to a default theme, which should immediately clear up the issue.
Make sure you back up your site first, as you'll need a way to get your theme files back once they're gone. Simply reinstalling the theme may cause you to lose your custom styling.
If you have access to your dashboard, this is easy. Just go to Appearance > Themes, click on the theme to select it, and then click Delete in the lower right corner of the pop-up window.
If you don't see the option, then try downloading and switching to a different theme. The safest bet is to try a default theme like Twenty Twenty-One.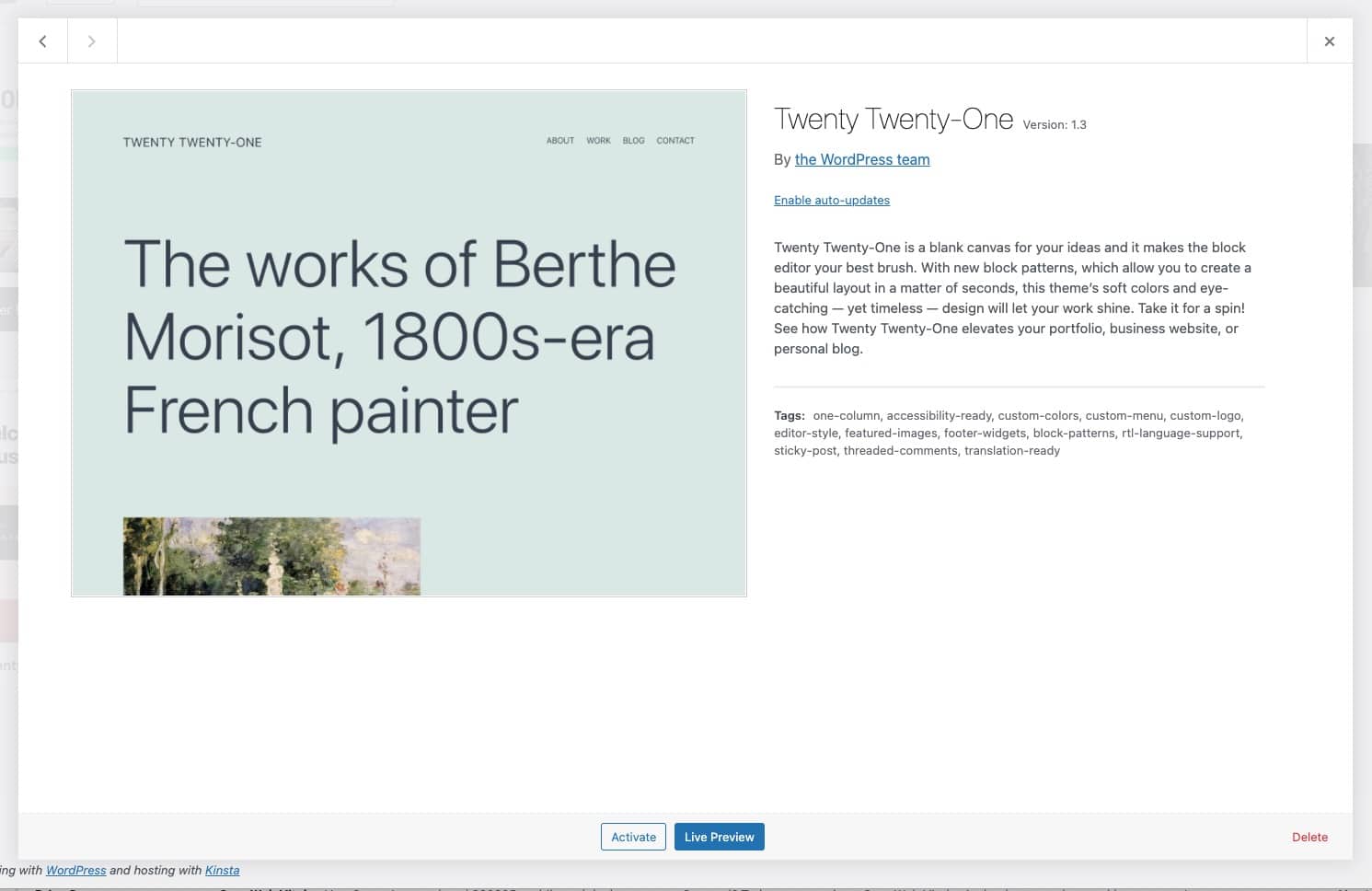 If you don't have access to your backend, follow these instructions to revert to a default theme with FTP.
Step 1: Connect to your site with FTP.
Step 2: Navigate to wp-content/themes. You have two choices here: either rename your theme folder (will allow you to turn the theme back on later) or simply delete it.
Step 3: If you don't have a backup theme here already, manually download Twenty Twenty and place its files into the themes folder
scubbydigital
scubbydigital
scubbydigital
scubbydigital
scubbydigital
scubbydigital
scubbydigital
scubbydigital
scubbydigital
scubbydigital
scubbydigital
scubbydigital
scubbydigital
scubbydigital
scubbydigital
scubbydigital
scubbydigital
scubbydigital
scubbydigital
scubbydigital
scubbydigital
scubbydigital
scubbydigital
scubbydigital
scubbydigital
scubbydigital
scubbydigital
scubbydigital
scubbydigital
scubbydigital
scubbydigital
scubbydigital
scubbydigital
scubbydigital
scubbydigital
scubbydigital
scubbydigital
scubbydigital
scubbydigital
scubbydigital
scubbydigital
scubbydigital
scubbydigital
scubbydigital
scubbydigital
scubbydigital
scubbydigital
scubbydigital
scubbydigital
scubbydigital
scubbydigital
scubbydigital
scubbydigital
scubbydigital
scubbydigital
scubbydigital
scubbydigital
scubbydigital
scubbydigital
scubbydigital
scubbydigital
scubbydigital
scubbydigital
scubbydigital
scubbydigital
scubbydigital
scubbydigital
scubbydigital
scubbydigital
scubbydigital
scubbydigital
scubbydigital
scubbydigital
scubbydigital
scubbydigital
scubbydigital
scubbydigital
scubbydigital
scubbydigital
scubbydigital
scubbydigital
scubbydigital
scubbydigital
scubbydigital
scubbydigital
scubbydigital
scubbydigital
scubbydigital
scubbydigital
scubbydigital
scubbydigital
scubbydigital
scubbydigital
scubbydigital
scubbydigital
scubbydigital
scubbydigital
scubbydigital
scubbydigital
scubbydigital
scubbydigital
scubbydigital
scubbydigital
scubbydigital
scubbydigital
scubbydigital
scubbydigital
scubbydigital
scubbydigital
scubbydigital
scubbydigital
scubbydigital
scubbydigital
scubbydigital
scubbydigital
scubbydigital
scubbydigital
scubbydigital
scubbydigital
scubbydigital
scubbydigital
scubbydigital
scubbydigital
scubbydigital
scubbydigital
scubbydigital
scubbydigital
scubbydigital
scubbydigital
scubbydigital
scubbydigital
scubbydigital
scubbydigital
scubbydigital
scubbydigital
scubbydigital
scubbydigital
scubbydigital
scubbydigital
scubbydigital
scubbydigital
scubbydigital
scubbydigital
scubbydigital
scubbydigital
scubbydigital
scubbydigital
scubbydigital
scubbydigital
scubbydigital
scubbydigital
scubbydigital
scubbydigital
scubbydigital
scubbydigital
scubbydigital
scubbydigital
scubbydigital
scubbydigital
scubbydigital
scubbydigital
scubbydigital
scubbydigital
scubbydigital
scubbydigital
scubbydigital
scubbydigital
scubbydigital
scubbydigital
scubbydigital
scubbydigital
scubbydigital
scubbydigital
scubbydigital
scubbydigital
scubbydigital
scubbydigital
scubbydigital
scubbydigital
scubbydigital
scubbydigital
scubbydigital
scubbydigital
scubbydigital
scubbydigital
scubbydigital
scubbydigital
scubbydigital
scubbydigital
scubbydigital
scubbydigital
scubbydigital
scubbydigital
scubbydigital
scubbydigital
scubbydigital
scubbydigital
scubbydigital
scubbydigital
scubbydigital
scubbydigital
scubbydigital
scubbydigital
scubbydigital
scubbydigital
scubbydigital
scubbydigital
scubbydigital
scubbydigital
scubbydigital
scubbydigital
scubbydigital
scubbydigital
scubbydigital
scubbydigital
scubbydigital
scubbydigital
scubbydigital
scubbydigital
scubbydigital
scubbydigital
scubbydigital
scubbydigital
scubbydigital
scubbydigital
scubbydigital
scubbydigital
scubbydigital
scubbydigital
scubbydigital
scubbydigital
scubbydigital
scubbydigital
scubbydigital
scubbydigital
scubbydigital
scubbydigital
scubbydigital
scubbydigital
scubbydigital
scubbydigital
scubbydigital
scubbydigital
scubbydigital
scubbydigital
scubbydigital
scubbydigital
scubbydigital
scubbydigital
scubbydigital
scubbydigital
scubbydigital
scubbydigital
scubbydigital
scubbydigital
scubbydigital
scubbydigital
scubbydigital
scubbydigital
scubbydigital
scubbydigital
scubbydigital
scubbydigital
scubbydigital
scubbydigital
scubbydigital
scubbydigital
scubbydigital
scubbydigital
scubbydigital
scubbydigital
scubbydigital
scubbydigital
scubbydigital
scubbydigital
scubbydigital
scubbydigital
scubbydigital
scubbydigital
scubbydigital
scubbydigital
scubbydigital
scubbydigital
scubbydigital
scubbydigital
scubbydigital
scubbydigital
scubbydigital
scubbydigital
scubbydigital
scubbydigital
scubbydigital
scubbydigital
scubbydigital
scubbydigital
scubbydigital
scubbydigital
scubbydigital
scubbydigital
scubbydigital
scubbydigital
scubbydigital
scubbydigital
scubbydigital
scubbydigital
scubbydigital
scubbydigital
scubbydigital
scubbydigital
scubbydigital
scubbydigital
scubbydigital
scubbydigital
scubbydigital
scubbydigital
scubbydigital
scubbydigital
scubbydigital
scubbydigital
scubbydigital
scubbydigital
scubbydigital
scubbydigital
scubbydigital
scubbydigital
scubbydigital
scubbydigital
scubbydigital
scubbydigital
scubbydigital
scubbydigital
scubbydigital
scubbydigital
scubbydigital
scubbydigital
scubbydigital
scubbydigital
scubbydigital
scubbydigital
scubbydigital
scubbydigital
scubbydigital
scubbydigital
scubbydigital
scubbydigital
scubbydigital
scubbydigital
scubbydigital
scubbydigital
scubbydigital
scubbydigital
scubbydigital
scubbydigital
scubbydigital
scubbydigital
scubbydigital
scubbydigital
scubbydigital
scubbydigital
scubbydigital
scubbydigital
scubbydigital
scubbydigital
scubbydigital
scubbydigital
scubbydigital
scubbydigital
scubbydigital
scubbydigital
scubbydigital
scubbydigital
scubbydigital
scubbydigital
scubbydigital
scubbydigital
scubbydigital
scubbydigital
scubbydigital
scubbydigital
scubbydigital
scubbydigital
scubbydigital
scubbydigital
scubbydigital
scubbydigital
scubbydigital
scubbydigital
scubbydigital
scubbydigital
scubbydigital
scubbydigital
scubbydigital
scubbydigital
scubbydigital
scubbydigital
scubbydigital
scubbydigital
scubbydigital
scubbydigital
scubbydigital