If you are not using Bluehost or a web host that can automatically install Drupal, you can also set it up manually. It's quite straightforward.
Download the Files
As the first step, go to the download section of the official Drupal website and hit the big blue button.

Once on your hard drive, unzip the file you just downloaded. Then, connect to your server via FTP (e.g. with FileZilla) and start uploading its contents to the server location that your domain is pointed at (usually the root directory). This will take a bit.
Create a Database for Drupal
In the meanwhile, navigate to your host's management panel for MySQL databases. Here, be sure to create a dedicated database for your Drupal installation. While the process will be slightly different depending on your provider, you should end up with the following:
Database name
A user name with all privileges for that database
The user's password
A database host address
Keep all of this information handy, you will need it soon.
Run the Installation
Once the files have finished uploading, navigate to your site domain. Doing so will start the Drupal installation process.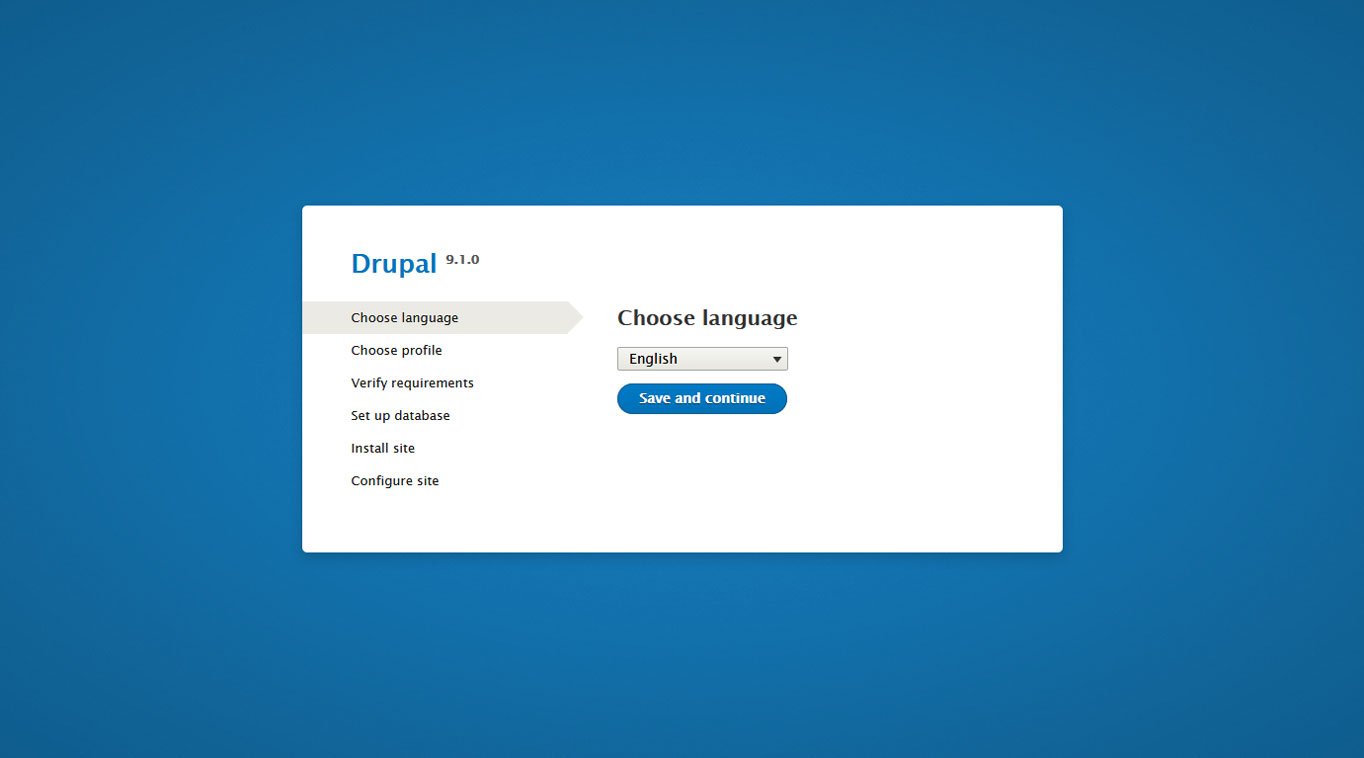 The first step is to choose the language you want your site to operate in. Take your pick and click Save and continue.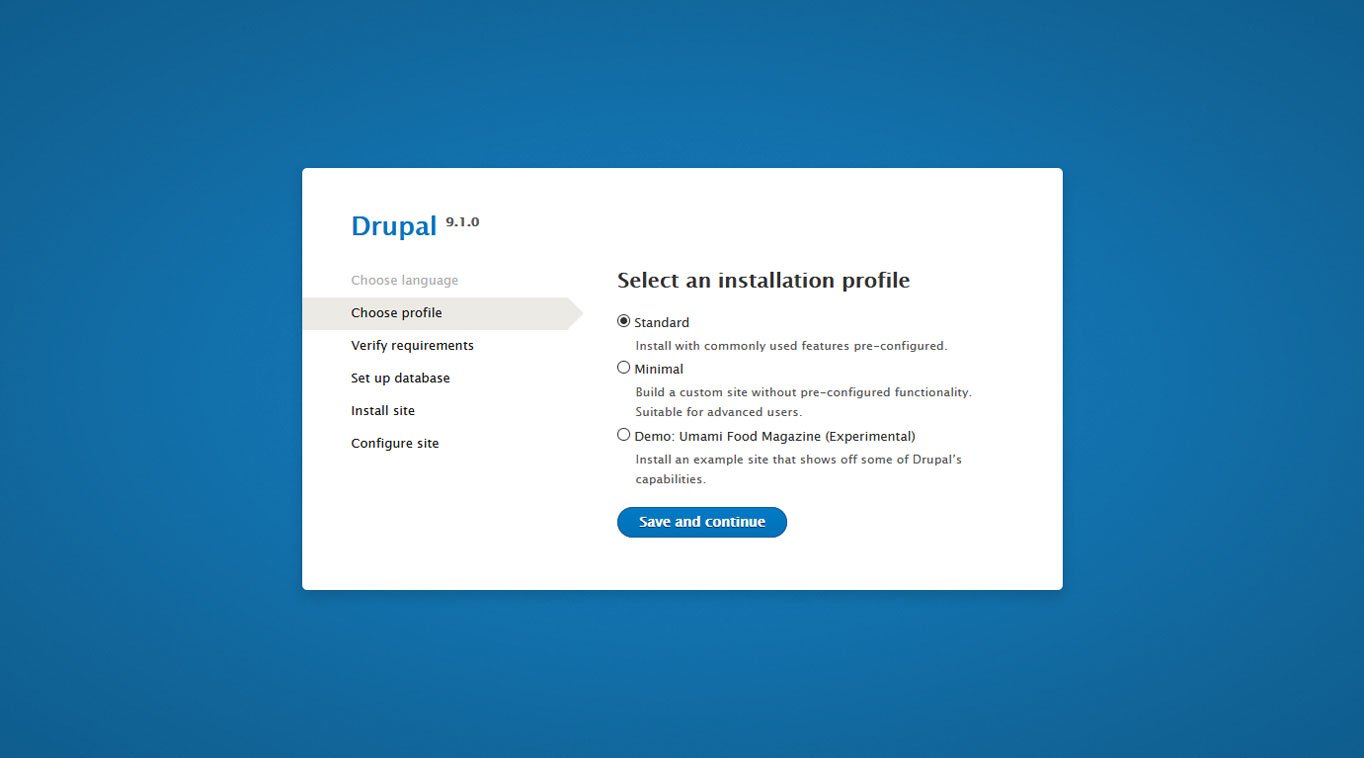 After that, you need to choose your so-called installation profile. This determines whether some of your site features will be pre-configured or not. The choices here might differ depending on the distribution of Drupal you are using. Again, make your choice and move on.
For this tutorial, we go with the standard Drupal profile. If you are more experienced, you may also use a minimal option.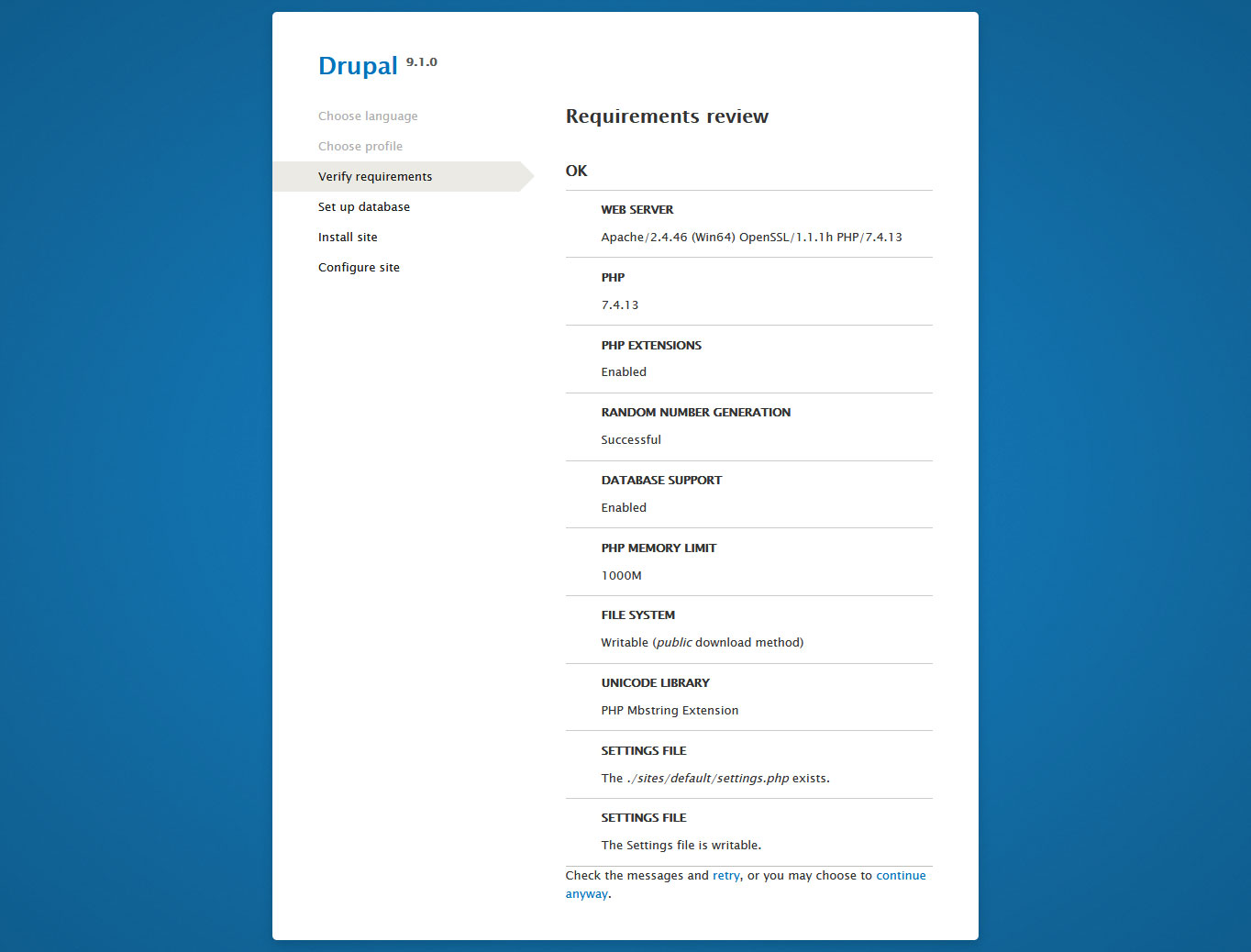 In the next step, the installation checks whether your environment is sufficient to run the software. Any problems will show up as warnings so you can address them. Continue when you are satisfied.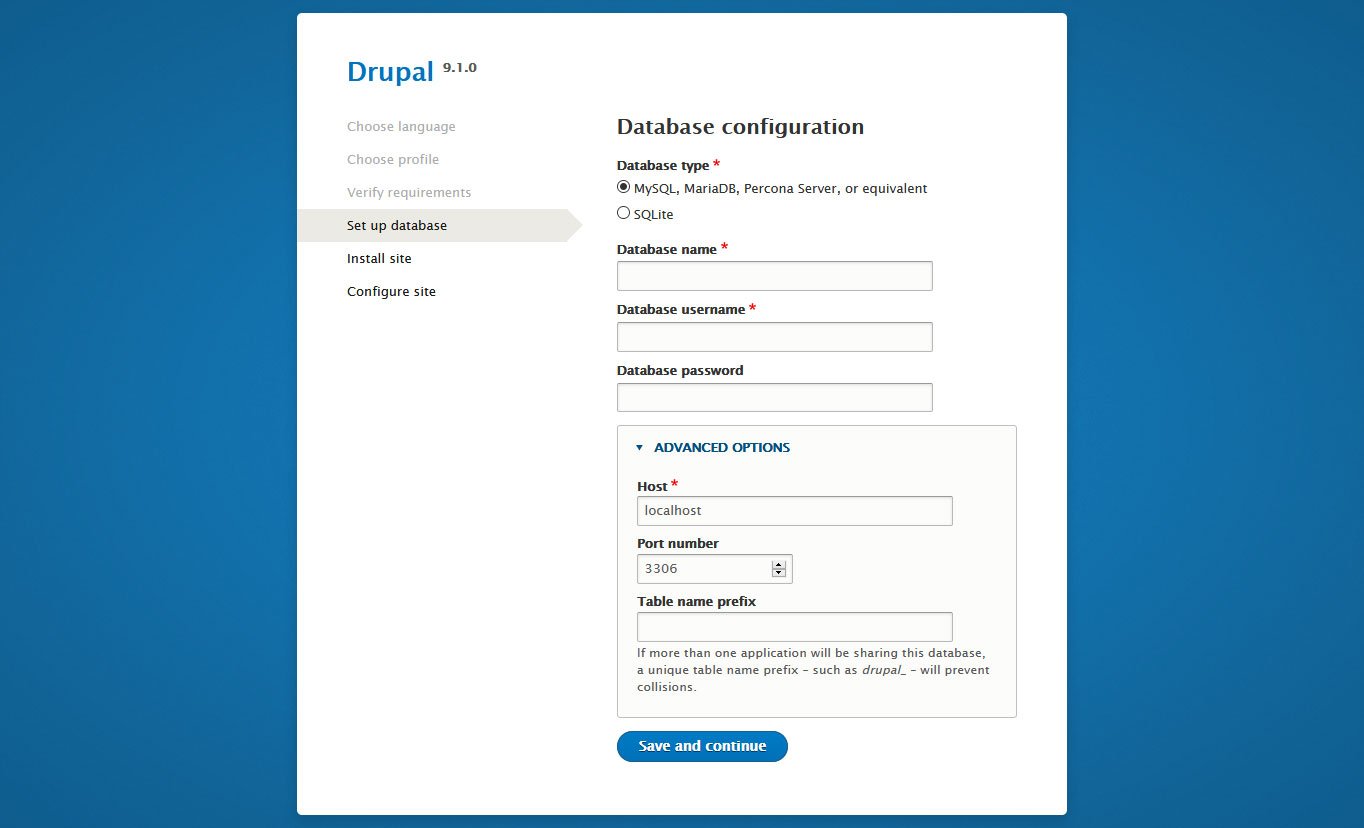 Now it's time to put the database information to use that you collected earlier. Input the database name, user name, and password. If your MySQL host address is not localhost, you can change it under Advanced Options. In the same place, you can also assign a database prefix if needed (for example, when you have several sites in one database). Save and continue once you are done.
After that, the actual installation begins.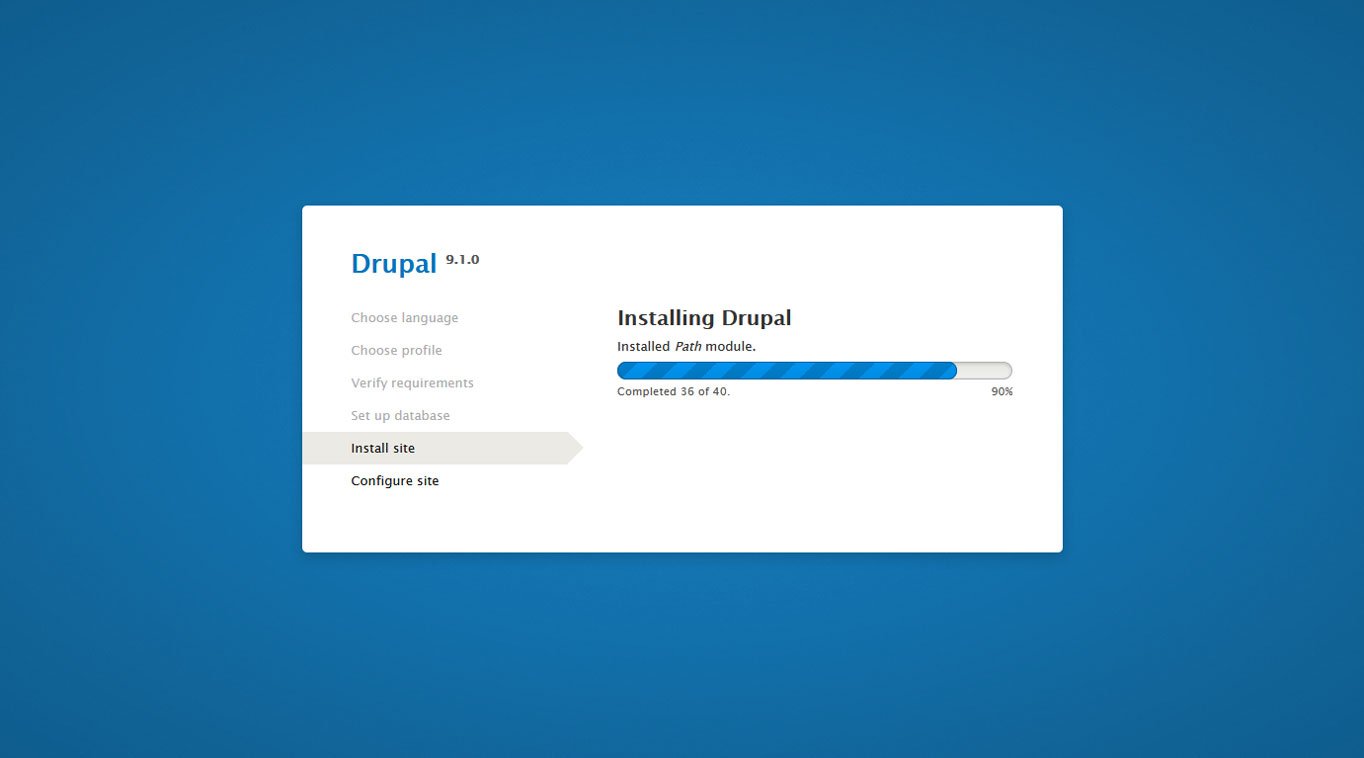 Finalize
The final step is to set up some basic information about your site.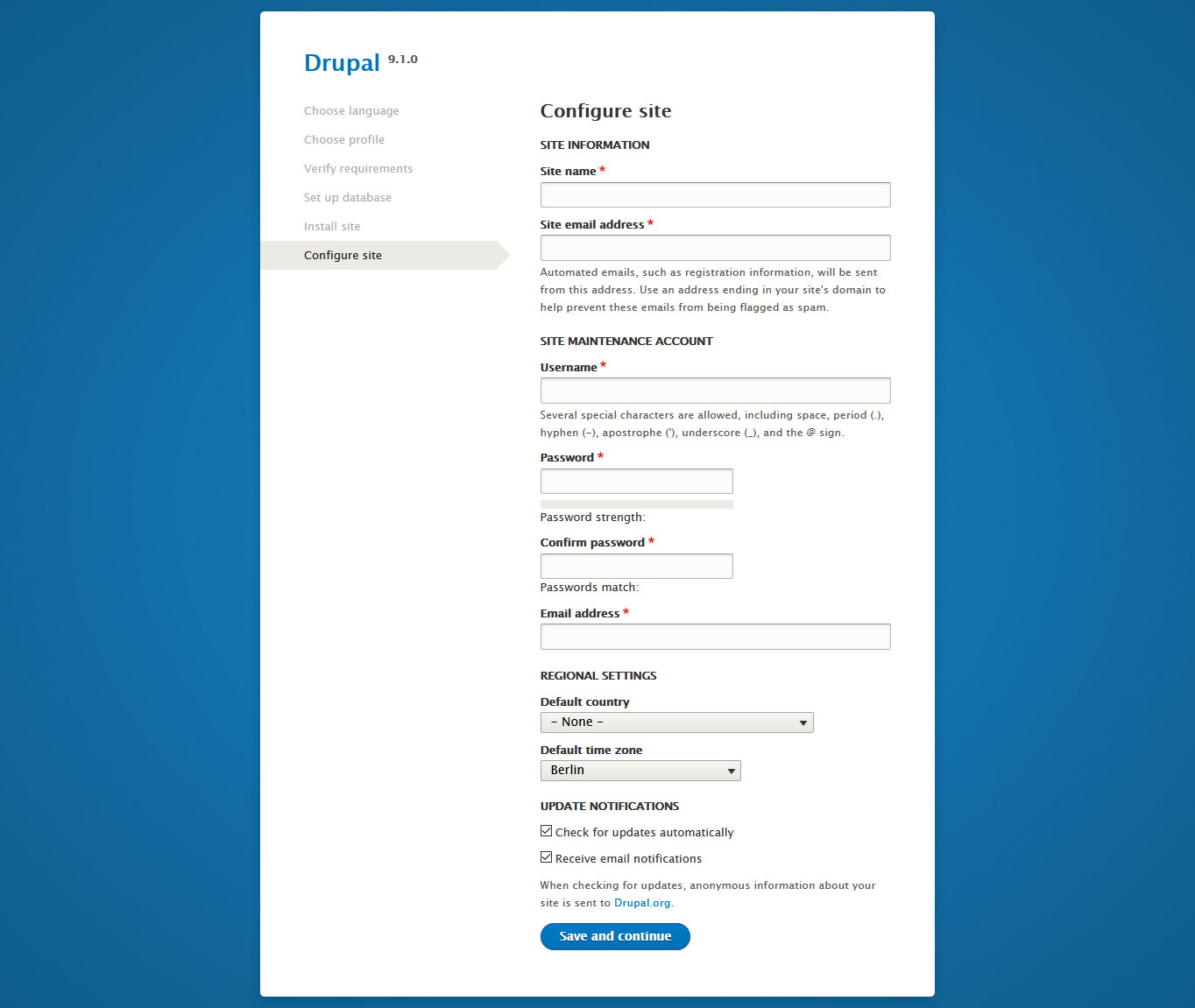 Here's how to fill it in.
Site name — The name of your website. You can change this later on, so don't get too hung up on getting it right.
Site email address — The email address from which users will receive site notifications.
Username — The user name of your sites' main admin account.
Password — Select a strong password to keep your account safe and don't forget to confirm it once more.
Email address — The email address associated with your main user. Drupal will automatically fill in the site email address, change it as needed.
Default country — The default country for your site.
Default time zone — The time zone your site will use for displaying dates and similar information.
Health Site
Health Site
Health Site
Health Site
Health Site
Health Site
Health Site
Health Site
Health Site
Health Site
Health Site
Health Site
Health Site
Health Site
Health Site
Health Site
Health Site
Health Site
Health Site
Health Site
Health Site
Health Site
Health Site
Health Site
Health Site
Health Site
Health Site
Health Site
Health Site
Health Site
Health Site
Health Site
Health Site
Health Site
Health Site
Health Site
Health Site
Health Site
Health Site
Health Site
Health Site
Health Site
Health Site
Health Site
Health Site
Health Site
Health Site
Health Site
Health Site
Health Site
Health Site
Health Site
Health Site
Health Site
Health Site
Health Site
Health Site
Health Site
Health Site
Health Site
Health Site
Health Site
Health Site
Health Site
Health Site
Health Site
Health Site
Health Site
Health Site
Health Site
Health Site
Health Site
Health Site
Health Site
Health Site
Health Site
Health Site
Health Site
Health Site
Health Site
Health Site
Health Site
Health Site
Health Site
Health Site
Health Site
Health Site
Health Site
Health Site
Health Site
Health Site
Health Site
Health Site
Health Site
Health Site
Health Site
Health Site
Health Site
Health Site
Health Site
Health Site
Health Site
Health Site
Health Site
Health Site
Health Site
Health Site
Health Site
Health Site
Health Site
Health Site
Health Site
Health Site
Health Site
Health Site
Health Site
Health Site
Health Site
Health Site
Health Site
Health Site
Health Site
Health Site
Health Site
Health Site
Health Site
Health Site
Health Site
Health Site
Health Site
Health Site
Health Site
Health Site
Health Site
Health Site
Health Site
Health Site
Health Site
Health Site
Health Site
Health Site
Health Site
Health Site
Health Site
Health Site
Health Site
Health Site
Health Site
Health Site
Health Site
Health Site
Health Site
Health Site
Health Site
Health Site
Health Site
Health Site
Health Site
Health Site
Health Site
Health Site
Health Site
Health Site
Health Site
Health Site
Health Site
Health Site
Health Site
Health Site
Health Site
Health Site
Health Site
Health Site
Health Site
Health Site
Health Site
Health Site
Health Site
Health Site
Health Site
Health Site
Health Site
Health Site
Health Site
Health Site
Health Site
Health Site
Health Site
Health Site
Health Site
Health Site
Health Site
Health Site
Health Site
Health Site
Health Site
Health Site
Health Site
Health Site
Health Site
Health Site
Health Site
Health Site
Health Site
Health Site
Health Site
Health Site
Health Site
Health Site
Health Site
Health Site
Health Site
Health Site
Health Site
Health Site
Health Site
Health Site
Health Site
Health Site
Health Site
Health Site
Health Site
Health Site
Health Site
Health Site
Health Site
Health Site
Health Site
Health Site
Health Site
Health Site
Health Site
Health Site
Health Site
Health Site
Health Site
Health Site
Health Site
Health Site
Health Site
Health Site
Health Site
Health Site
Health Site
Health Site
Health Site
Health Site
Health Site
Health Site
Health Site
Health Site
Health Site
Health Site
Health Site
Health Site
Health Site
Health Site
Health Site
Health Site
Health Site
Health Site
Health Site
Health Site
Health Site
Health Site
Health Site
Health Site
Health Site
Health Site
Health Site
Health Site
Health Site
Health Site
Health Site
Health Site
Health Site
Health Site
Health Site
Health Site
Health Site
Health Site
Health Site
Health Site
Health Site
Health Site
Health Site
Health Site
Health Site
Health Site
Health Site
Health Site
Health Site
Health Site
Health Site
Health Site
Health Site
Health Site
Health Site
Health Site
Health Site
Health Site
Health Site
Health Site
Health Site
Health Site
Health Site
Health Site
Health Site
Health Site
Health Site
Health Site
Health Site
Health Site
Health Site
Health Site
Health Site
Health Site
Health Site
Health Site
Health Site
Health Site
Health Site
Health Site
Health Site
Health Site
Health Site
Health Site
Health Site
Health Site
Health Site
Health Site
Health Site
Health Site
Health Site
Health Site
Health Site
Health Site
Health Site
Health Site
Health Site
Health Site
Health Site
Health Site
Health Site
Health Site
Health Site
Health Site
Health Site
Health Site
Health Site
Health Site
Health Site
Health Site
Health Site
Health Site
Health Site
Health Site
Health Site
Health Site
Health Site
Health Site
Health Site
Health Site
Health Site
Health Site
Health Site
Health Site
Health Site
Health Site
Health Site
Health Site
Health Site
Health Site
Health Site
Health Site
Health Site
Health Site
Health Site
Health Site
Health Site
Health Site
Health Site
Health Site
Health Site
Health Site
Health Site
Health Site
Health Site
Health Site
Health Site
Health Site
Health Site
Health Site
Health Site
Health Site
Health Site
Health Site
Health Site
Health Site
Health Site
Health Site
Health Site
Health Site
Health Site
Health Site
Health Site
Health Site
Health Site
Health Site
Health Site
Health Site
Health Site
Health Site
Health Site
Health Site
Health Site
Health Site
Health Site
Health Site
Health Site
Health Site
Health Site
Health Site
Health Site
Health Site
Health Site
Health Site
Health Site
Health Site
Health Site
Health Site
Health Site
Health Site
Health Site
Health Site
Health Site
Health Site
Health Site
Health Site
Health Site
Health Site
Health Site
Health Site
Health Site
Health Site
Health Site
Health Site
Health Site
Health Site
Health Site
Health Site
Health Site
Health Site
Health Site
Health Site
Health Site
Health Site
Health Site
Health Site
Health Site
Health Site
Health Site
Health Site
Health Site
Health Site
Health Site
Health Site
Health Site
Health Site
Health Site
Health Site
Health Site
Health Site
Health Site
Health Site
Health Site
Health Site
Health Site
Health Site
Health Site
Health Site
Health Site
Health Site
Health Site
Health Site
Health Site
Health Site
Health Site
Health Site
Health Site
Health Site
Health Site
Health Site
Health Site
Health Site
Health Site
Health Site
Health Site
Health Site
Health Site