Here is our list of 27 online business ideas for 2021.
1. Start a Blog and Monetize it
We talk a lot about how to start a blog on this website, and for good reason.
In 2021, it's easier to start a blog than ever before, and your blog can also be a big potential source of income (if you know how to monetize it).
Keep in mind that you don't just start a blog and expect the money to roll in. You need to create content consistently, and it also needs to be content that educates, informs, or entertains people. In other words, it needs to capture their interest in some way.
What's more, you need to sell something through the blog. This can be ad space, products, digital products, sponsored posts, coaching, ebooks, etc.
But if you're willing to put in the work and you're in it for the long haul, blogging can be extremely profitable (some bloggers make $50k per month or more).
Here are some resources to help you get started with your first blog:
2. Get Started With Affiliate Marketing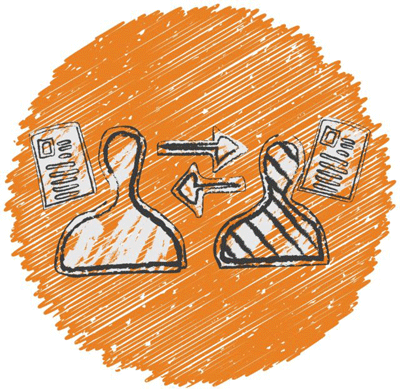 Affiliate marketing is basically the process of earning a commission by promoting somebody else's product.
There are two main ways most people do affiliate marketing:
Information products. You promote products like ebooks, membership sites, video series, etc. This type of affiliate marketing can earn you up to 50% or more in commission, has relatively low barriers to entry, and it's easy to find products to promote.
Amazon partners. Many affiliate marketers have success with Amazon. There are literally millions of products to choose from, and it can be quite profitable. For more information, you can check out the Amazon Associates Program.
Quick side note: Before you start affiliate marketing, it helps to have at least a basic knowledge of SEO and copywriting (more on each of these later).
That being said, you can read a few copywriting books and look through the beginner's guide to SEO from Moz to help you get started.
3. Set Up an E-Commerce Site
One of the best ways to earn online income is by setting up an e-commerce store.
Here's the plus side: if you try to go the route of affiliate marketing, the best affiliate marketers are focused on 3 main niches; dating, weight loss, and making money online. You would have to compete with the best of the best, and it's not easy.
With the e-commerce route, in many markets, you'll be competing against old-school business people who may or may not have any internet marketing experience. Many of them have glitchy, out-of-date websites, which leaves you a lot of room for improvement, and you can capitalize on their shortcomings.
t's still not easy by any means. It requires hard work, and you need to stand out amongst the hundreds of thousands of e-commerce websites and online stores. But by filling a unique niche and executing the right marketing techniques, you can make your e-commerce store a profitable success.
Health Site
Health Site
Health Site
Health Site
Health Site
Health Site
Health Site
Health Site
Health Site
Health Site
Health Site
Health Site
Health Site
Health Site
Health Site
Health Site
Health Site
Health Site
Health Site
Health Site
Health Site
Health Site
Health Site
Health Site
Health Site
Health Site
Health Site
Health Site
Health Site
Health Site
Health Site
Health Site
Health Site
Health Site
Health Site
Health Site
Health Site
Health Site
Health Site
Health Site
Health Site
Health Site
Health Site
Health Site
Health Site
Health Site
Health Site
Health Site
Health Site
Health Site
Health Site
Health Site
Health Site
Health Site
Health Site
Health Site
Health Site
Health Site
Health Site
Health Site
Health Site
Health Site
Health Site
Health Site
Health Site
Health Site
Health Site
Health Site
Health Site
Health Site
Health Site
Health Site
Health Site
Health Site
Health Site
Health Site
Health Site
Health Site
Health Site
Health Site
Health Site
Health Site
Health Site
Health Site
Health Site
Health Site
Health Site
Health Site
Health Site
Health Site
Health Site
Health Site
Health Site
Health Site
Health Site
Health Site
Health Site
Health Site
Health Site
Health Site
Health Site
Health Site
Health Site
Health Site
Health Site
Health Site
Health Site
Health Site
Health Site
Health Site
Health Site
Health Site
Health Site
Health Site
Health Site
Health Site
Health Site
Health Site
Health Site
Health Site
Health Site
Health Site
Health Site
Health Site
Health Site
Health Site
Health Site
Health Site
Health Site
Health Site
Health Site
Health Site
Health Site
Health Site
Health Site
Health Site
Health Site
Health Site
Health Site
Health Site
Health Site
Health Site
Health Site
Health Site
Health Site
Health Site
Health Site
Health Site
Health Site
Health Site
Health Site
Health Site
Health Site
Health Site
Health Site
Health Site
Health Site
Health Site
Health Site
Health Site
Health Site
Health Site
Health Site
Health Site
Health Site
Health Site
Health Site
Health Site
Health Site
Health Site
Health Site
Health Site
Health Site
Health Site
Health Site
Health Site
Health Site
Health Site
Health Site
Health Site
Health Site
Health Site
Health Site
Health Site
Health Site
Health Site
Health Site
Health Site
Health Site
Health Site
Health Site
Health Site
Health Site
Health Site
Health Site
Health Site
Health Site
Health Site
Health Site
Health Site
Health Site
Health Site
Health Site
Health Site
Health Site
Health Site
Health Site
Health Site
Health Site
Health Site
Health Site
Health Site
Health Site
Health Site
Health Site
Health Site
Health Site
Health Site
Health Site
Health Site
Health Site
Health Site
Health Site
Health Site
Health Site
Health Site
Health Site
Health Site
Health Site
Health Site
Health Site
Health Site
Health Site
Health Site
Health Site
Health Site
Health Site
Health Site
Health Site
Health Site
Health Site
Health Site
Health Site
Health Site
Health Site
Health Site
Health Site
Health Site
Health Site
Health Site
Health Site
Health Site
Health Site
Health Site
Health Site
Health Site
Health Site
Health Site
Health Site
Health Site
Health Site
Health Site
Health Site
Health Site
Health Site
Health Site
Health Site
Health Site
Health Site
Health Site
Health Site
Health Site
Health Site
Health Site
Health Site
Health Site
Health Site
Health Site
Health Site
Health Site
Health Site
Health Site
Health Site
Health Site
Health Site
Health Site
Health Site
Health Site
Health Site
Health Site
Health Site
Health Site
Health Site
Health Site
Health Site
Health Site
Health Site
Health Site
Health Site
Health Site
Health Site
Health Site
Health Site
Health Site
Health Site
Health Site
Health Site
Health Site
Health Site
Health Site
Health Site
Health Site
Health Site
Health Site
Health Site
Health Site
Health Site
Health Site
Health Site
Health Site
Health Site
Health Site
Health Site
Health Site
Health Site
Health Site
Health Site
Health Site
Health Site
Health Site
Health Site
Health Site
Health Site
Health Site
Health Site
Health Site
Health Site
Health Site
Health Site
Health Site
Health Site
Health Site
Health Site
Health Site
Health Site
Health Site
Health Site
Health Site
Health Site
Health Site
Health Site
Health Site
Health Site
Health Site
Health Site
Health Site
Health Site
Health Site
Health Site
Health Site
Health Site
Health Site
Health Site
Health Site
Health Site
Health Site
Health Site
Health Site
Health Site
Health Site
Health Site
Health Site
Health Site
Health Site
Health Site
Health Site
Health Site
Health Site
Health Site
Health Site
Health Site
Health Site
Health Site
Health Site
Health Site
Health Site
Health Site
Health Site
Health Site
Health Site
Health Site
Health Site
Health Site
Health Site
Health Site
Health Site
Health Site
Health Site
Health Site
Health Site
Health Site
Health Site
Health Site
Health Site
Health Site
Health Site
Health Site
Health Site
Health Site
Health Site
Health Site
Health Site
Health Site
Health Site
Health Site
Health Site
Health Site
Health Site
Health Site
Health Site
Health Site
Health Site
Health Site
Health Site
Health Site
Health Site
Health Site
Health Site
Health Site
Health Site
Health Site
Health Site
Health Site
Health Site
Health Site
Health Site
Health Site
Health Site
Health Site
Health Site
Health Site
Health Site
Health Site
Health Site
Health Site
Health Site
Health Site
Health Site
Health Site
Health Site
Health Site
Health Site
Health Site
Health Site
Health Site
Health Site
Health Site
Health Site
Health Site
Health Site
Health Site
Health Site
Health Site
Health Site
Health Site
Health Site
Health Site
Health Site
Health Site
Health Site
Health Site
Health Site
Health Site
Health Site
Health Site
Health Site
Health Site
Health Site
Health Site
Health Site
Health Site
Health Site
Health Site
Health Site
Health Site
Health Site
Health Site
Health Site
Health Site
Health Site
Health Site
Health Site
Health Site
Health Site
Health Site
Health Site
Health Site
Health Site
Health Site
Health Site